Remote Control Cards
Now you can control the status of your debit card
Have you ever "misplaced" your debit card? Has it ever been lost or stolen?
Now you can control your debit card with WFCU's app.
The app allows you to log into our app and simply temporarily disable your card.
Eliminate fraud by controlling your card today. Maybe you are going on vacation or you have "misplaced" your card. You have the ability to disable your card from anywhere!
---
Bill Pay
Pay your bills from anywhere anytime with Bill Pay
You determine who you want to pay, when you want to make the payment and which account you want the payment to come from.
Pay a Bill, a Person, Set up eBills, Set up Payment Reminders and Set Up Bill Pay Alerts!
It's safe, secure and easy to use.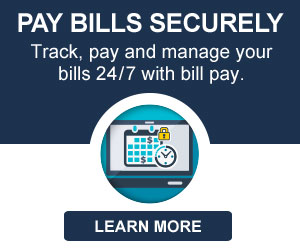 ---
Remote Deposit
Remote Deposit is a convenient, secure and free tool that allows you to deposit checks without having to get dressed and drive to our branch.
To make a deposit all you need is your phone or tablet and WFCUs Mobile App that you can easily download from the App store or Google Play
Checks are subject to holds
---
eStatements
No more waiting for your statement to come in the mail. We'll send a secure email when your account statements are available. With eStatements you can view, download or print an electronic version of your statement anytime, anywhere! You will have access to your records up to 2 years.
Not signed up for eStatements come in or give us a call today and we will get you enrolled.